Module Specs & Testing Procedure
Physical Dimensions
303 x 223 x 36 mm (11.93 x 8.78 x 1.38 in) and weighing about 3.8 kg (8.38lbs)
M6 Terminal – 5.5 +- 1.0Nm – 12mm max depth
M4 Terminal – 1.2 +- 0.24Nm – 11.5mm max depth
Chemistry
lithium-manganese-oxide with nickel oxide
(LiMn2O4 with LiNiO2)
Voltage Details
The cell's voltage chart shows a maximum cell voltage of 4.2V. Rated nominally at 3.75V

Module Nominal Voltage is: 2×3.75 = 7.5V
Max Charge Current: 130amps
Max Discharge Current: 130amps
Testing Procedure
To test module capacity I am only charging the cells to 8.2v (4.1v per cell) – The results will show usable capacity.

Discharge to 6.5v per module (3.25v per cell)
Storage
I will be storing the modules at 7.6v (3.80v per cell)
Charging Hardware
I am using an iCharger X6 to charge the cells and to discharge to storage.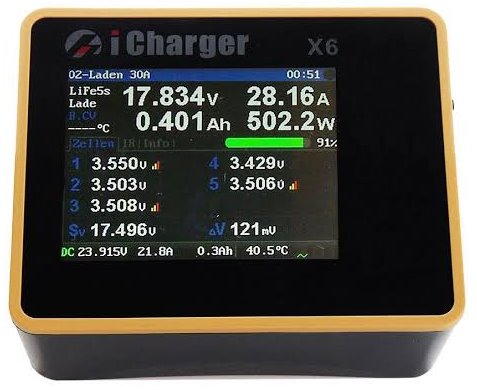 Capacity Testing Hardware
West Mountain Radio CBA IV.
Manufacturer: http://www.westmountainradio.com/
I purchased from my local Battery World on the Central Coast NSW. (special order, but readily available)

This unit is able to test and graph the capacity. Testing is slow as it can only discharge at ~106.6w. Due to the voltage of the module, the current starts at 13 amps.
Note: I was planning on testing at 150w (the capacity of the CBA IV, however, I found its fan could not cope with the higher temperature and the unit would stop testing with high-temperature warnings. Its summer and the ambient temp is 25+deg C.
I could capacity test at higher rates using the x6, however, ~100w is about what each module is going to be subject to when commissioned into a working power wall with a 3000w inverter. 28 modules * 106.6w = 2987.8w – If I was to ever upgrade to a 5000w inverter the batteries will easily cope. 5000/48v = 104a. 104a would be divided by four as the complete battery will have four modules in parallel – so current per module would be 26amps – well below these modules rated output.