Creating the Batrium <-> Victron CAN bus cable
While waiting for other parts, I figured now was as good a time as any to tackle the communication cable between the Batrium and Victron Cerbo unit.
The Batrium Documentation doesn't spell it out, but does give enough information and links to work it out. One end of the cable is standard ethernet as shown below. This end goes into the Victron end.
Victron End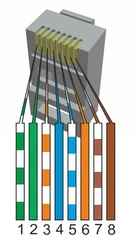 Batrium End
Victron End – Batrium End
Pin 3 – Ground
Pin 7 – High
Pin 8 – Low
I created an easy print PDF to help me make the cable. You can view/print the PDF here.